GROCERY STORE BANGKOK WELCOME TO GRANDMA'S PANTRY
all our products are Artisanal & prepared with love and passion in the best Italian Farms.
Bio-diverse, Organic, Gluten Free & Natural

prices are subject to government tax
FROM THE FARM
COLD CUTS

Artisanal cold-cuts from Lenzi's Farm in Tuscany – Italy – or "Selected by Lenzi" from the best Italian Farms
(price x 100gr)

GUANCIA – Cured Pork Cheek 250B
BIROLDO IGP – Blood Pudding Ham 215B
SOPPRESSATA – Different Parts of the Pork cooked &
pressed together 215B
BAZZON COTTO – Cooked Ham 500B
LARDO – Fatback with Herbs & Rock Salt 290B
LONZA DOLCE – Dried-Cured Muscle from Neck to Rib 360B
SALAME TOSCANO – Cured Sausage, Fermented & Air-Dried 265B
CULACCIO DELLA GARFAGNANA – The King of Hams made from
Leg Muscle 540B
MORTADELLA – Small Heat-Cured Pork Sausage 300B
PANCETTA – Rolled Pork Belly 230B
SALAME DI CINGHIALE – Wild Boar Salami 360B

Selected by Lenzi from Italy
SPECK – Dry Cured & Lightly Smoked, from Alto Adige 265B
PUNTA DI TACCHINO – Turkey Tip Breast, from Tuscany 300B
PROSCIUTTO DI PARMA – Parma's Ham 36 months aged, from Emilia Romagna 540B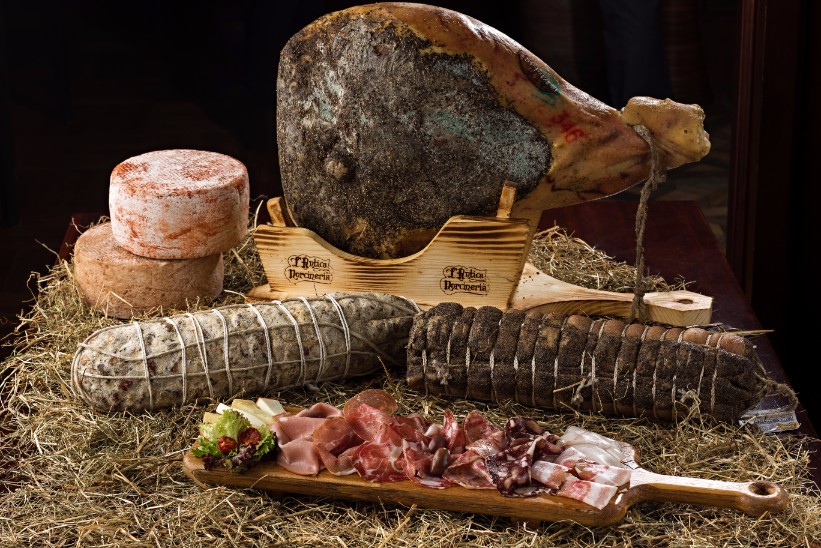 CHEESE

Artisanal Cheese from Lenzi's Farm in Tuscany – Italy – or "Selected by Lenzi" from the best Italian & Thai farms
(price x 100gr)

PECORINO ROSSO – Fresh Cheese made with Sheep Milk 290B
PECORINO STAGIONATO IN GROTTA – Made with Sheep Milk & Matured in a Natural Cave 445B
FORMAGGIO VACCINO – Fresh Cheese made with Cow Milk 240B
PECORINO VECCHIA CACIAIA – Made with Sheep Milk & Semi-Matured 300B
PECORINO ALLA CASTAGNA – Made with Sheep Milk &
Matured with Chestnuts 360B
PECORINO AL TARTUFO – Made with Sheep Milk &
Matured with Black Truffle 420B

Selected by Lenzi from Italy
GORGONZOLA – Blue Cheese made with unskimmed Cow Milk 240B
PECORINO ROMANO – Made with Sheep Milk & Matured 310B
PARMIGIANO REGGIANO 36 MONTHS – Hard cheese made with
Cow milk & long Matured 310B
TALEGGIO – Semisoft Washed-Rind Cow Milk 240B
BUFALA – Fresh IGP Italian Buffalo Milk cheese
made from Mozzarella 300B
RICOTTA SALATA – Dried Salty Cow Milk Ricotta 240B

Selected by Lenzi from Thailand
BURRATA – Fresh Buffalo Milk cheese made from
Mozzarella & cream 300B
FETA – Brined Crud from Sheep Milk 215B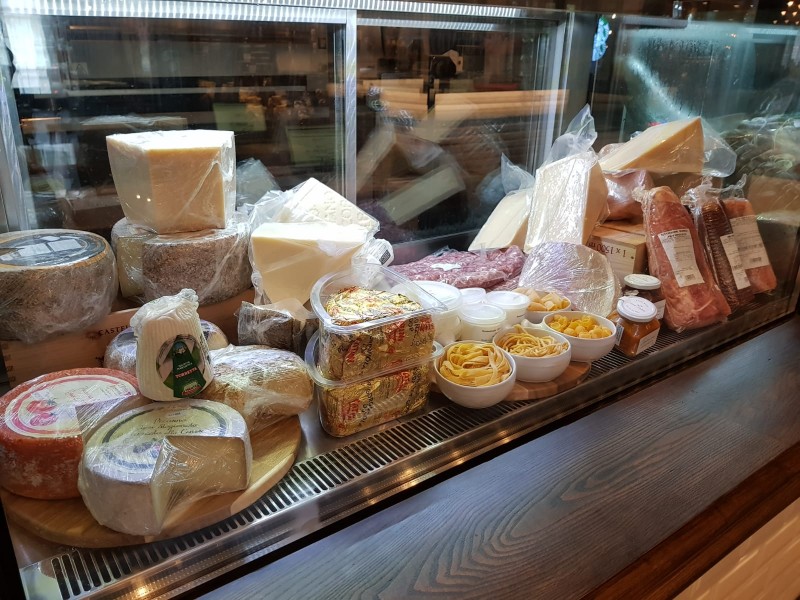 CARPACCIO & FISH HAMS

Meats from Lenzi's Farm in Tuscany – Italy – & fish hams Selected by Lenzi among the best Italian farms
(price x 100gr)

MANZO DI POZZA – Lenzi's Farm Marinated Beef Carpaccio dressed with shaved Parmesan 600B

Fish hams Selected by Lenzi
BOTTARGA – Dried Mullet eggs 600B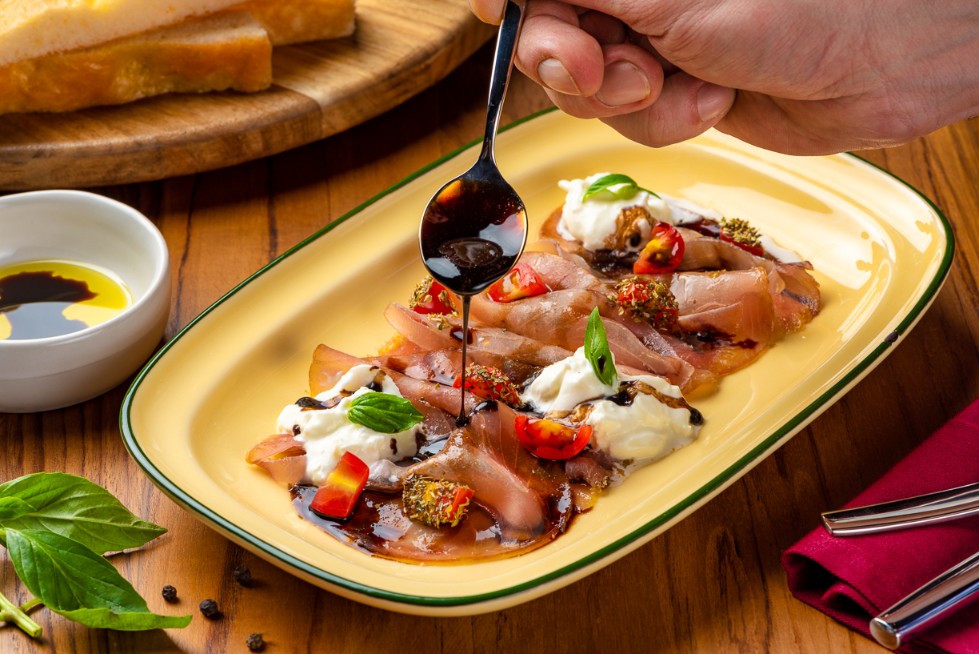 FROM THE LAND
TRUFFLE

"Selected by Lenzi" the best truffle quality from San Miniato – Tuscany

WHITE TRUFFLE
OIL & VINEGAR

The perfect combination of the well-known light olive oil and the delicacy of the white truffle. Balsamic vinegar of Modena and white truffle is ready to use and ideal as a condiment for risotto, cheese, salads, roasts and second courses of fish, asparagus and eggs. Excellent for finishing your dishes, giving an inimitable touch.

(price x piece)

WHITE TRUFFLE OIL 380B | mL 40 |

BALSAMIC VINEGAR WITH WHITE TRUFFLE 750B | mL 100 |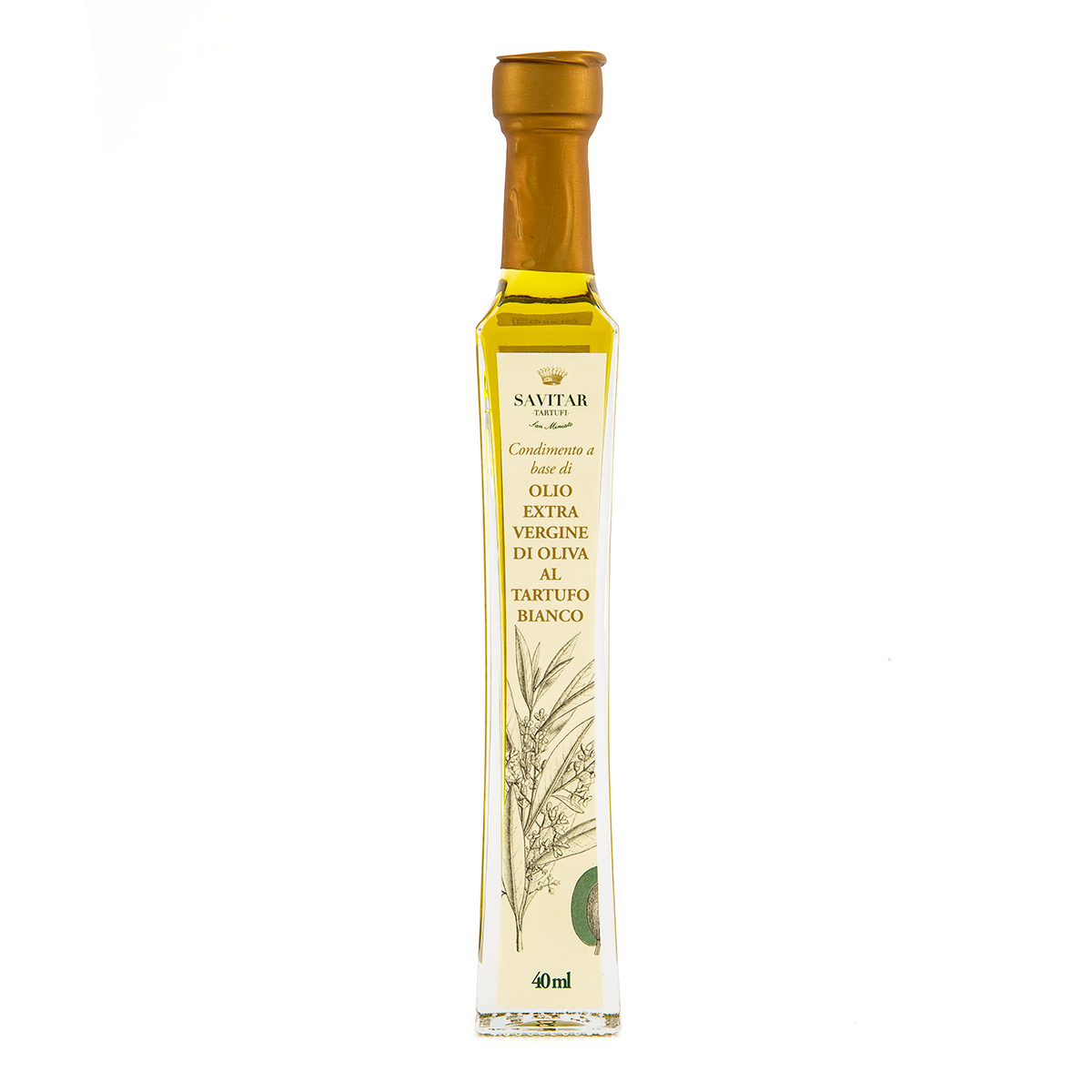 CHUTNEY & HONEY

Acacia honey with white truffles can be enjoyed alone, as toppings in desserts or to accompany aged cheeses, ricotta or pears. Chutney made with ground fruit, with apples, pears and cherries in variable proportion and white truffle is excellent with cheese or boiled meat. The salt up to the dehydrated white truffle can be used in any dish that requires salting, as a substitute for classic salt.

(price x piece)

WHITE TRUFFLE HONEY 450B | gr 40 |
BLACK TRUFFLE

Tartufaio Sauce is made with black summer truffle, champignon mushrooms, black olives, anchovies & capers in extra virgin olive oil. It's excellent with creamy cheeses, on croutons or for meat fillings. Black Truffle Sauce is summer truffle in cubes and olive oil, salt and pepper. It is an excellent sauce to enrich every dish: from the aperitif, to the condiment for pasta and rice, to beef, lamb and pork.

(price x piece)

SLICED BLACK TRUFFLE 2320B | gr 180 |

NATURAL BLACK TRUFFLE 3750B | gr 200 |

TARTUFAIO SAUCE 300B | gr 80 |

BLACK TRUFFLE SAUCE 990B | gr 80 |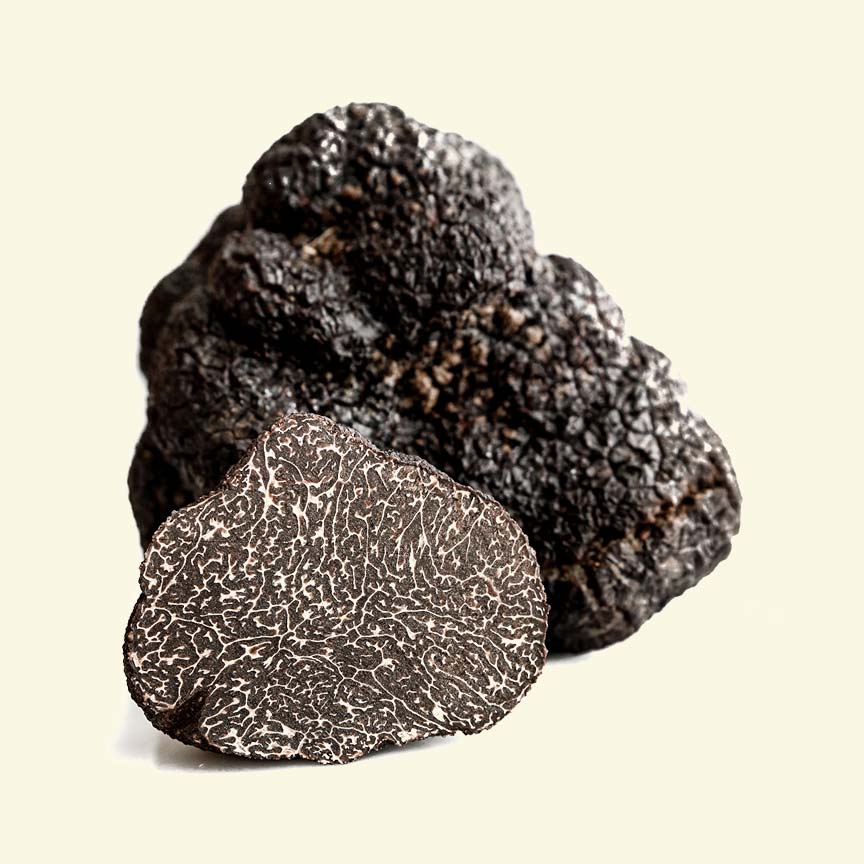 FROM THE PASTA LAB
GRANDMA'S FRESH PASTA

Our pasta is home & daily made using a special artisanal Italian machine, following Chef's grandmother recipe & method. We selected only organic & free range eggs & Italian flours.

(price x 1000gr)

ORECCHIETTE – Type of pasta typical of Puglia region whose shape is approximately that of small ears, from which the name derives. 500B
RIGATONI – Form of tube-shaped pasta of varying lengths and diameters originating in Italy, larger than penne 600B
GNOCCHI – Various thick, small, and soft dough dumplings made from wheat flour & potato 500B
SPAGHETTONI – Thick Spaghetti 700B
SPAGHETTINI – Thin Spaghetti 500B
TAGLIATELLE – Type of pasta typicalof  Emilia Romagna region, long, flat ribbons that are similar in shape to fettuccine 500B
RAVIOLI – Ravioli filled with Ricotta & Spinach  1200B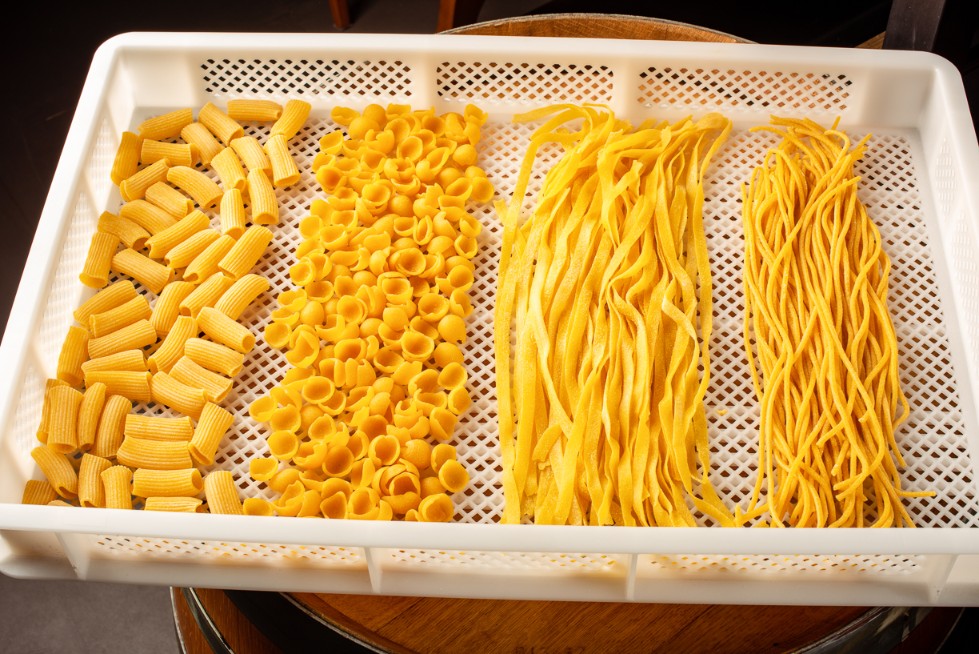 FROM GARDEN & ORCHARD
FRUIT COMPOTES

In our concept of "Farm-Made" the sweet compotes are prepared through low temperatures cooking and in a vacuum, are then quickly pasteurize at 80°C (for storability); in this way we manage to keep the fruits' properties as much as possible. Our fruit compotes (which are similar to jam, but with much less sugar) are made of at least 80% fruit, Sicilian lemons' juice, organic brown sugar and natural apple pectin. We use only Biodiversity-Friend certified products. User advice: the product, having a low percentage of sugar, doesn't last long: for this reason it's better to keep it in the fridge and to consume it within 10 days. We also recommend you to always use a clean spoon to avoid external contaminations.
(price x piece)

STRAWBERRY & ELDERFLOWER, PEAR & VANILLA, PEACH & MANGO, RASPBERRY 400B | gr 210 |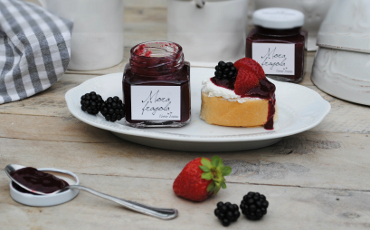 MARINATED VEGETABLES

The idea of keeping seasons' colors, fragrances and flavours inside a single jar has something magical! That's why our marinated and bitter-sweet jars contain fresh vegetables (Biodiversity-Friend certified) accompanied only by high-quality ingredients.
(price x piece)

EGGPLANT, MINT & CHILI 560B | gr 140
ROASTED PEPPER & ROSEMARY 560B | gr 140
GRILLED WHITE ASPARAGUS 1200B | gr 500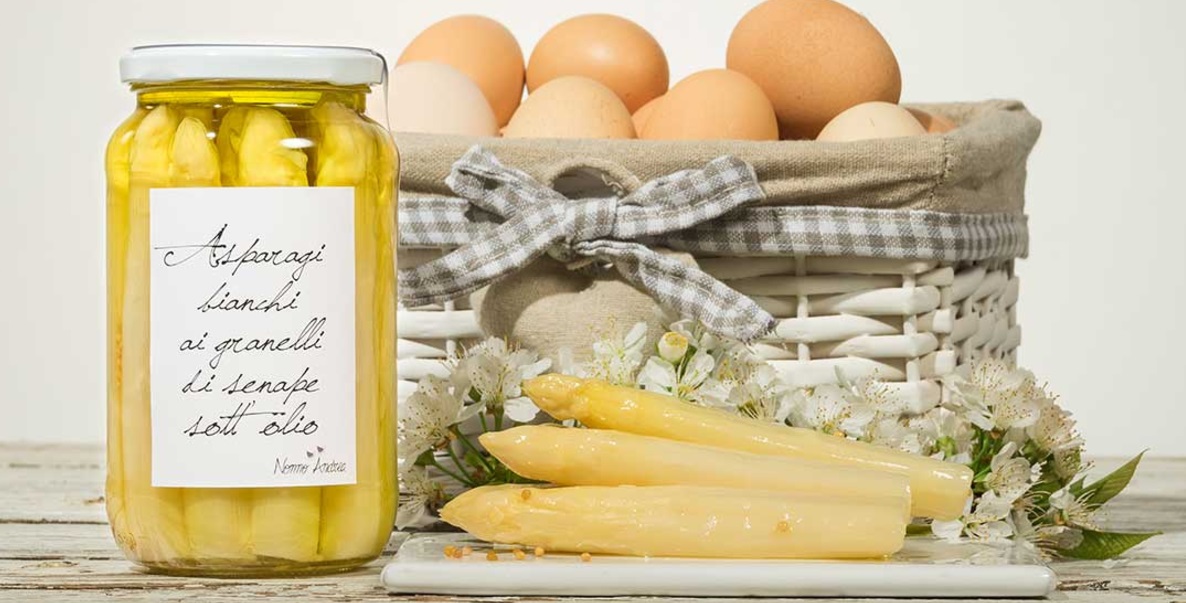 NATURAL KETCHUP

Four different vegetable ketchup with the bright colors of red tomato, celery, pumpkin & red radish. These ketchup can be served with: french fries, vegetable patties and hamburgers, salty pancakes, sandwiches and many other dishes. They are prepared at low temperatures and in a vacuum; they are made with lots of Biodiversity-Friend certified vegetables and with high-quality ingredients.
(price x piece)

ORANGE, RED, GREEN, PURPLE 150B | gr 40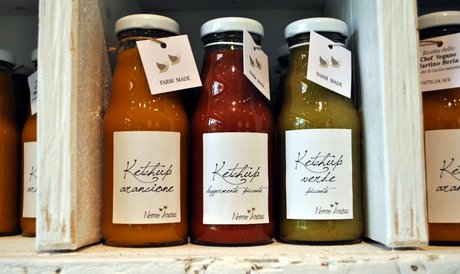 SAUCES & SOUP

From the best tomato seedlings with a sweet and intense flavour, tomatoes arrive from the vegetable garden to our Farm-Made. Our tomatoes sauce is soupy, tasty and summer-flavoured.
(price x piece)

ROMA & PICCADILLY TOMATOES PUREE 540B | gr 500 (out of stock)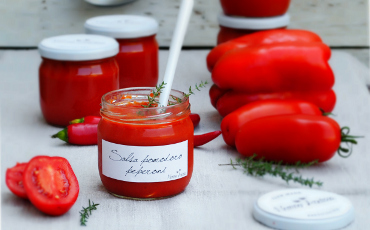 FROM OLIVE GROVE & GRAPEVINE
Selected by Lenzi (price x piece)

AGED BALSAMIC VINEGAR FROM MODENA 1500B | mL 250

CHILI PEPPER OIL 370B | mL 100

PLANETA EXTRA VIRGIN OLIVE OIL  – D.O.P. VAL DI MAZARA 890B | mL 250
CASA RINALDI
Casa Rinaldi has taken up the challenge of bringing the world the Traditional Balsamic Vinegar of
Modena, a product that has always been disinclined to be traded in large numbers, but for tradition. The selection of Casa Rinaldi is expanding soon to the best Italian food excellences: extra virgin olive oil, canns, from pestos to fruit jams, from sauces to pasta to the vegetables in oil or vinegar, not to
forget the wide range dedicated to organic. (price x piece)

OLIVE OIL & VINEGAR

EXTRA VIRGIN OLIVE OIL TERRE DI BARI D.O.P.  1890B | ml 500

EXTRA VIRGIN OLIVE OIL VAL DI MAZARA-SICILIA D.O.P.  1500B | ml 500

EXTRA VIRGIN OLIVE OIL TOSCANA IGP  1990B | ml 500

EXTRA VIRGIN OLIVE OIL AND BLACK TRUFFLE 790B | ml 250

AGED BALSAMIC VINEGAR OF MODENA IGP 1990B | ml 250

WHITE WINE VINEGAR 490B | ml 500

RED WINE VINEGAR 490B | ml 500

RASPBERRY VINEGAR 660B | ml 250

SAUCE & CONDIMENTS

PACHINO TOMATOES SAUCE  490B | gr 330

PESTO SAUCE WITH EXTRA VIRGIN OLIVE OIL  450B | gr 130

MARMELADE CALABRIA ORANGE WITH PEEL  400B | gr 330

MARMELADE ITALIAN CLEMENTINE  490B | gr 180